Erection & Commissioning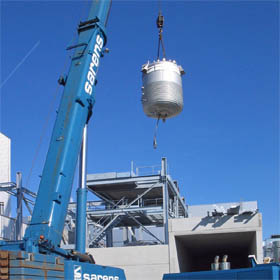 Depending on the customer's wishes, the erection of a synthetic resin plant may be carried out under the constant supervision of RHE/MEISSNER personnel, or under the customer's own management with part-time supervision and intermediate checks by RHE/MEISSNER experts. In addition to that RHE/MEISSNER together with proven partner companies offers the complete execution of the erection. For pilot plants or plants of similar size MEISSNER also provides pre-assembly on the production site or in the company-owned workshop.
The product group RHE of MEISSNER company also assists the customer with advice and support during commissioning. The plant is put into operation by an experienced commissioning team, which provides training to the customer's personnel in Cologne already prior to commissioning as well as very extensively at site upon plant completion.
Of course the commitment to customer requirements does not end with plant start-up, but continues in competent after-sales service: We will keep providing you with expert assistance in plant-related issues, whether they involve further optimising plant operation, resolving other customer-specific technical problems, or the planning and implementation of downstream plants or plant extensions.