Engineering
One of the core businesses of the RHE product group in MEISSNER company is the planning and design - in short: the engineering - of synthetic resin plants for the chemical industry. The services offered by RHE/MEISSNER range from the supply of the Basic Engineering up to the provision of the complete Detail Engineering for a synthetic resin plant.
The precise planning and optimum design of each RHE/MEISSNER plant are based on well-proven know-how and on the experience derived from more than 200 synthetic resin plants that have been supplied and successfully commissioned so far. In close coordination with the customer, tailor-made plants are designed and documented by means of the latest working techniques.
Human Resources
From start to finish, RHE plant engineering projects are seen through by permanent teams of closely working project managers and project engineers. In this way, the customer benefits from the fact that he may address the same person in charge from the project planning phase to the commissioning phase. Moreover, this procedure ensures that valuable experience from previous commissionings will be directly incorporated into the planning of new projects - an excellent basis for the subsequent planning by means of technical resources.
Technical Resources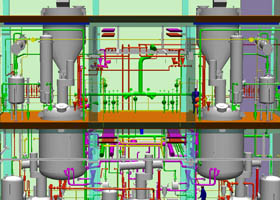 Starting from the Basic Design, the preparation of meaningful, consistent, and effectively usable planning documents at RHE's takes place by use of efficient computer systems with state-of-the-art software, e.g. CAD programs for the three-dimensional planning of plants. Computer-aided design not only enables quick, thorough and effective planning of a plant, but also reliable and rapid handling during the subsequent procurement phase.
The application of modern planning techniques during the engineering phase also pays off for the customer as it helps to opimise the design of apparatuses and the procurement of bulk materials, thus creating a significant reduction in costs for all involved project partners.