Sample Taking & Online Analytics
Contact Persons
This email address is being protected from spambots. You need JavaScript enabled to view it.
This email address is being protected from spambots. You need JavaScript enabled to view it.
Tel. +49 - 221 - 37 92-0
Fax +49 - 221 - 37 92-299
Sample Taking & Online Analytics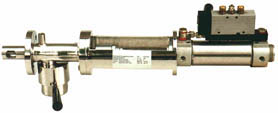 Sample Valve EPV
The JM/RHE sample valve was developed for products which do not harden irreversibly upon contact with ambient air. In the resin industry it is predominantly applied in plants for the manufacture of alkyd and polyester resins, acrylic resins and phenolic resins.
Through a special sealing system, the sampling is also possible while the reaction vessel is operated either under vacuum or under pressure. For heating with steam or thermal oil, the valve can be equipped with a jacket.
Continuous Viscosity and Acid Number Measurement
The precise continuous determination of the product viscosity inside the reactor during the production process fails regularly because of considerable temperature fluctuations at the probe location, and the impact of solid particles and gas bubbles in the reaction mix. With the JM/RHE measurement circuit employing probes outside the reactor these problems are prevented and very reliable results are generated.
The measurement circuit can be complimented by an NIR spectrophotometer thereby rendering possible to also establish continuously the acid number of the reactor contents. After automatic calibration with laboratory acid number values, the data from the spectrophotometer sensor are evaluated by a special software.
The JM/RHE circuit for the continuous measurement of the product viscosity and acid number is designed particularly for the connection to the reactors of alkyd and polyester resin plants. The viscosity testing alone unit is additionally suitable for the application in plants for the manufacture of phenolic resins, etherified melamine resins and solid epoxy resins.
Online pH Measurement
The equipment for an online pH measurement is employed as a means for the process control in plants for the production of (aqueous) urea and melamine resins as well as phenolic resins.
Through the automatic (or manual) addition of acids or caustics from corresponding dosing tanks the required pH values can be achieved with high accuracy.
Online Enthalpy Measurement
In cases where the heat of reaction of polymerization processes is discharged exclusively through the reactor walls into the heating and cooling circuit, the online measurement of the enthalpy is applied for the precise establishment of the reaction start point and the monitoring of the reaction progress. It is thus a valuable instrument under the aspects of plant and operator safety of polymer emulsion plants, since a potentially dangerous excess of unreacted monomers in the reactor can be prevented.