Polyaddition Plants
Contact Persons
This email address is being protected from spambots. You need JavaScript enabled to view it.
This email address is being protected from spambots. You need JavaScript enabled to view it.
Tel. +49 - 221 - 37 92-0
Fax +49 - 221 - 37 92-299
Polyaddition Plants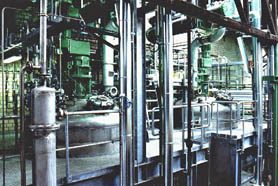 Liquid and Solid Epoxy Resins
Epoxy resins are manufactured through a multi-step process from compounds containing epoxy groups, predominantly epichlorohydrin, and hydroxy group containing compounds such as bisphenol-A and bisphenol-F in the presence of caustic solution.
1. Liquid Epoxy Resins
Bisphenol-A and caustic solution are added in a reactor to an excess amount of epichlorohydrin such that the highly exothermic polyaddition reaction can be safely controlled. After the further controlled addition of caustic solution, an elimination reaction generating sodium chloride as by-product sets in.
2. Solid Epoxy Resins
raw materials with a molar excess of bisphenol-A. Alternatively, they are manufactured in a dedicated plant through a chain prolongation process from a liquid base resin and bisphenol-A at elevated temperatures.
JM/RHE designed epoxy resin plants include the following characteristics
an effective agitator, developed by JM/RHE, with a variable frequency drive through which the shaft speed can be adjusted to all requirements;
reduced heating and cooling times through the integration of external and internal reactor coils into the thermal oil secondary circuit;
the equipment for the recovery and effective drying of excess epichlorohydrin after the elimination reaction;
the equipment for the recovery of products from waste water streams for an optimum yield;
the fully automatic manufacture of solid epoxy resins to analytical target values with a unique viscosity testing circuit.
Polyurethane Resins and Polyurethane Emulsions
Polyurethane resins are manufactured by a polyaddition reaction from diisocyanates and polyols at temperatures between 60 and 80°C.
The product of the polyaddition reaction can be further processed as such or in diluted form or used to produce polyurethane emulsions. In this case, the pre-polymer is dissolved in a water soluble solvent such as acetone or methyl ethyl ketone. The solution is then passed into cold water, the solvent is distilled off under vacuum and the resulting emulsion filtered.
JM/RHE designed polyurethane resin and emulsion plants include the following characteristics
an effective agitator, developed by JM/RHE, with a variable frequency drive through which the shaft speed can be adjusted to all requirements;
Process Control System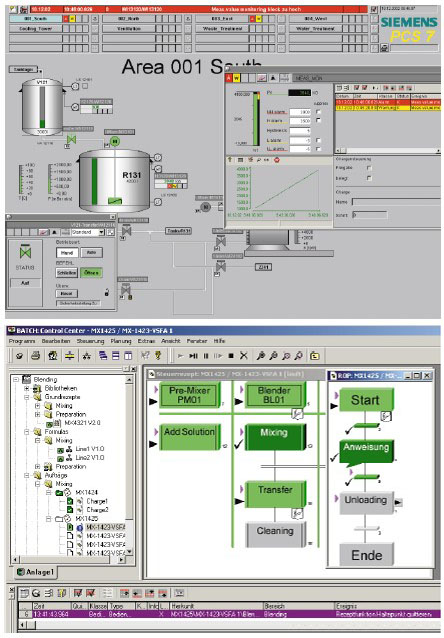 The plants for the production of synthetic resins and polymer emulsions offered by the RHE product group preferably come with a SIEMENS SIMATIC PCS7 process control system. This well-proven process control system is designed to meet the highest standards of performance and reliability in chemical plant automation.
Designed as a uniform and homogeneous complete system, SIMATIC PCS 7 meets the special demands on a process control system especially with regard to batch-oriented operation:
- simple and reliable process control for reproducible product qualities
- user-friendly operation and visualization thanks to an operating concept including the plant view
- flexible solutions for batch processes
Its modular structure enables the process control system to be adapted and subsequently expanded or reconfigured, e. g. in order to correspond to new conditions in case of increases in capacity or technological modifications.
The operator surface has a clear and ergonomic design, so the operator can monitor the process through displays of the plant components and can change quickly between different plant views.
The automation of batch processing is effected via the SIMATIC BATCH module, the main components of which are a Batch Control Center (BatchCC) and a recipe editor.
BatchCC enables comfortable order and batch planning and offers powerful functions for monitoring, controlling and recording of batch processing.
For instance, the operator can select a saved recipe which is then executed almost fully automatically.
The recipe editor is a comfortable tool for creating, modifying, and documenting master recipes.
All in all, SIEMENS SIMATIC PCS7 together with SIMATIC BATCH CC is a powerful and user-friendly process control system ensuring smooth plant operation.