New Emulsion Plant for Orgsintez ProLab (Nova Roll) in Russia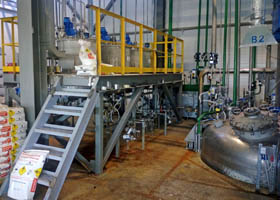 MEISSNER with its product group RHE Händel Engineering supplied a new plant for the production of styrene acrylate emulsions to the customer Orgsintez ProLab in Russia.
The production plant based in Dzerhinsk was successfully commissioned at the beginning of 2018 and since then keeps working at full capacity and to the utmost satisfaction of the customer.
Orgsintez ProLab is a subsidiary of Nova Roll, one of Russia's leading manufacturers of packaging tape and the pertaining special adhesives.
Apart from the 32 m³ reactor as its very centrepiece, the order also includes further equipment for monomer premix and emulsifier solution. Moreover, dosing equipment for additives as well as cooling and mixing installations for the product form part of the order.